Are you looking for a unique and refreshing summer treat? Look no further than watermelon simple syrup! With just the perfect blend of sweet and tart, this syrup is as delicious as it is easy to make.
Some of the links below are affiliate links. This means that, at zero cost to you, I will earn an affiliate commission if you click through the link and finalize a purchase.
You can enjoy it in so many ways, from topping your pancakes or ice cream to creating your own signature mocktails and cocktails.
Unlike other simple syrups, this is a no cook homemade watermelon syrup. Otherwise known as a cold pressed syrup. A bit more time is involved here before you get to enjoy your watermelon simple syrup, but it's worth it though!
Ingredients
Watermelon – Ideally fresh watermelon would always be in season, so you might not always get a great one. A seedless watermelon or a seeded one is perfectly fine.
White Granulated Sugar
Lemon Juice – Fresh is best, fresh lime juice is also acceptable.
Dash of Salt
Other sugars used in making homemade simple syrups
Cane Sugar – Cane sugar syrup is earthier, bolder, and gives a toasted sugar flavor than white sugar. Not as strong as turbinado or molasses.
Brown Sugar – This syrup is called Demerara Syrup. Great for coffee cocktails and darker beverages.
Palm Sugar – Golden in color with a cotton candy sweetness.
Honey – 3:2 honey to water ratio.
Agave Nectar– 2:1 agave to water.
Helpful Tools
How To Make
Cut your watermelon into 1-inch cubes.
Add sugar, cubed watermelon, lemon juice, and salt into a large sealable container like a mason jar or Ziploc bag.
Muddle the ingredients around before sealing. Place mixture in the refrigerator for 12 – 24 hours.
Stir one final time before straining out the watermelon chunks with a fine mesh sieve or strainer. Pour watermelon syrup into a clean sealable container.
Use your watermelon syrup within 3 days!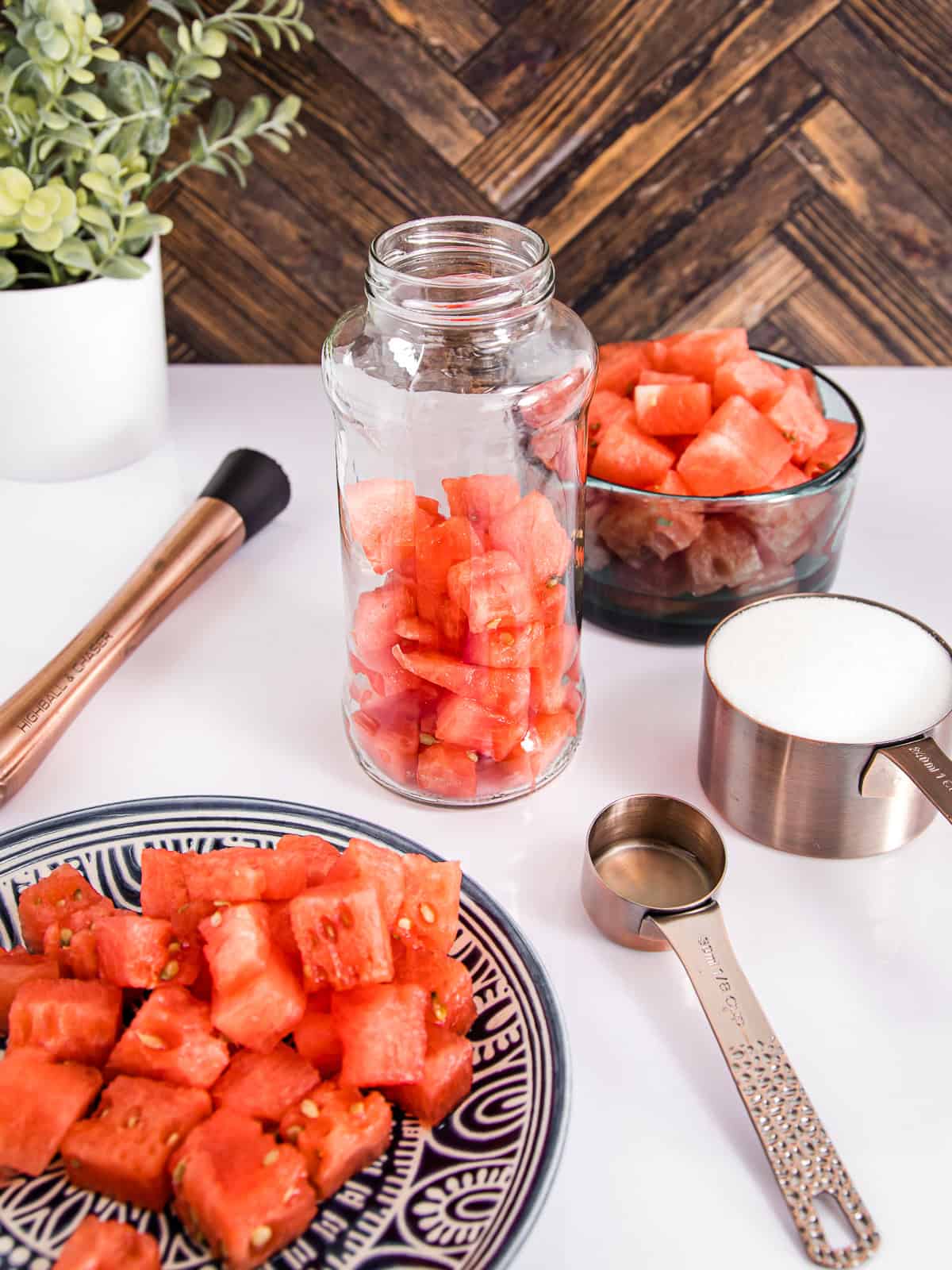 Uses For Watermelon Simple Syrup
This delectably sweet syrup can be used in more ways than just drinks!
Add sparkling water for a homemade watermelon soda.
Use watermelon syrup on top of french vanilla ice cream.
Brush on cakes to infuse watermelon flavor.
Add it to your favorite iced tea or lemonade mix.
Create a simple mocktail by stirring a tablespoon into sparkling water and adding a squeeze of lime.
Mocktail -> Cocktail
For a boozy twist, consider adding watermelon syrup to these delicious drinks. Swap out alcohol for NA Spirits.
Watermelon Gin & Tonic
Watermelon Margarita
Watermelon Mojito
Drink Responsibly & Enjoy!
Tips!
– Cut your watermelons uniformly into 1-inch cubes so they infuse quickly and evenly during the refrigeration process.
– For best results, use ripe but firm fruit when making this recipe – too ripe and it won't flavor properly; too firm and it won't mash easily enough. Either seeded or seedless watermelon is fine.
– If you don't like tartness in your syrup add extra sugar; if you want more tanginess add extra lemon juice.
How long can I store my simple syrup?
You can keep it stored in your fridge for up to three days.
What other fruits can I use in place of watermelon?
Try experimenting with other fruits such as strawberries, raspberries, and blackberries for unique flavor combinations!
Why should I let the syrup chill overnight?
Refrigerating overnight allows for all flavors to infuse evenly for maximum taste potential! This is called cold process syrup. Making homemade watermelon syrup this way will ensure we get maximum fresh watermelon flavor. Cooking the syrup lessens the flavor of fresh watermelon.
The Forest Is Full Of Mocktails
Print
Syrup : Watermelon Simple Syrup
Author:
Prep Time:

15 minutes

Chill Time:

24 hours

Total Time:

24 hours 15 minutes

Category:

Syrup

Method:

chill
2 cups Watermelon, cubed
1 cup White Granulated Sugar
1 teaspoon Lemon Juice
Dash of Salt
Instructions
Cut your watermelon into 1-inch cubes.
Add watermelon, sugar, lemon juice, and salt into a large sealable container like a mason jar or ziploc bag. Muddle the ingredients around a bit before sealing.
Refrigerator for 12-24 hours.
Stir a final time to completely dissolve the sugar.
Strain with a wire mesh strainer. Use your watermelon syrup within 3 days. 
Equipment
Notes
If using a jar, use a large jar. For this recipe, I used a recycled salsa jar. Worked great.