Finding a Non-Alcoholic Substitute For Rum In Drinks has become increasingly important in the more recently noticed sober movement. Those looking to limit their alcohol intake and crave a rum substitute have a huge variety of options to discover. Today I will be focusing on five premium brands that offer quality non-alcoholic rums.
Some of the links below are affiliate links. This means that, at zero cost to you, I will earn an affiliate commission if you click through the link and finalize a purchase.
What Makes a Great Non-Alcoholic Rum?
What makes a great zero-proof rum? Quality, flavor, mixability, and an enjoyable taste, all without compromising on strength or complexity. These five premium brands each offer something unique, from notes of spice and caramel to sweetness and smokiness.
While one might be surprised by the cost of an alcohol-free spirit, it's best to remember that like classic spirits, developing a complex, and specially crafted non-alcoholic spirit takes just as much effort and know how as the real thing.
Inspired by the tastes and flavor profiles we all love, but made for conscious consumption for those who are simply being DD for the night, participating in dry January, or abstaining altogether. Whatever your reason, I hope one of these rum substitutes finds you well.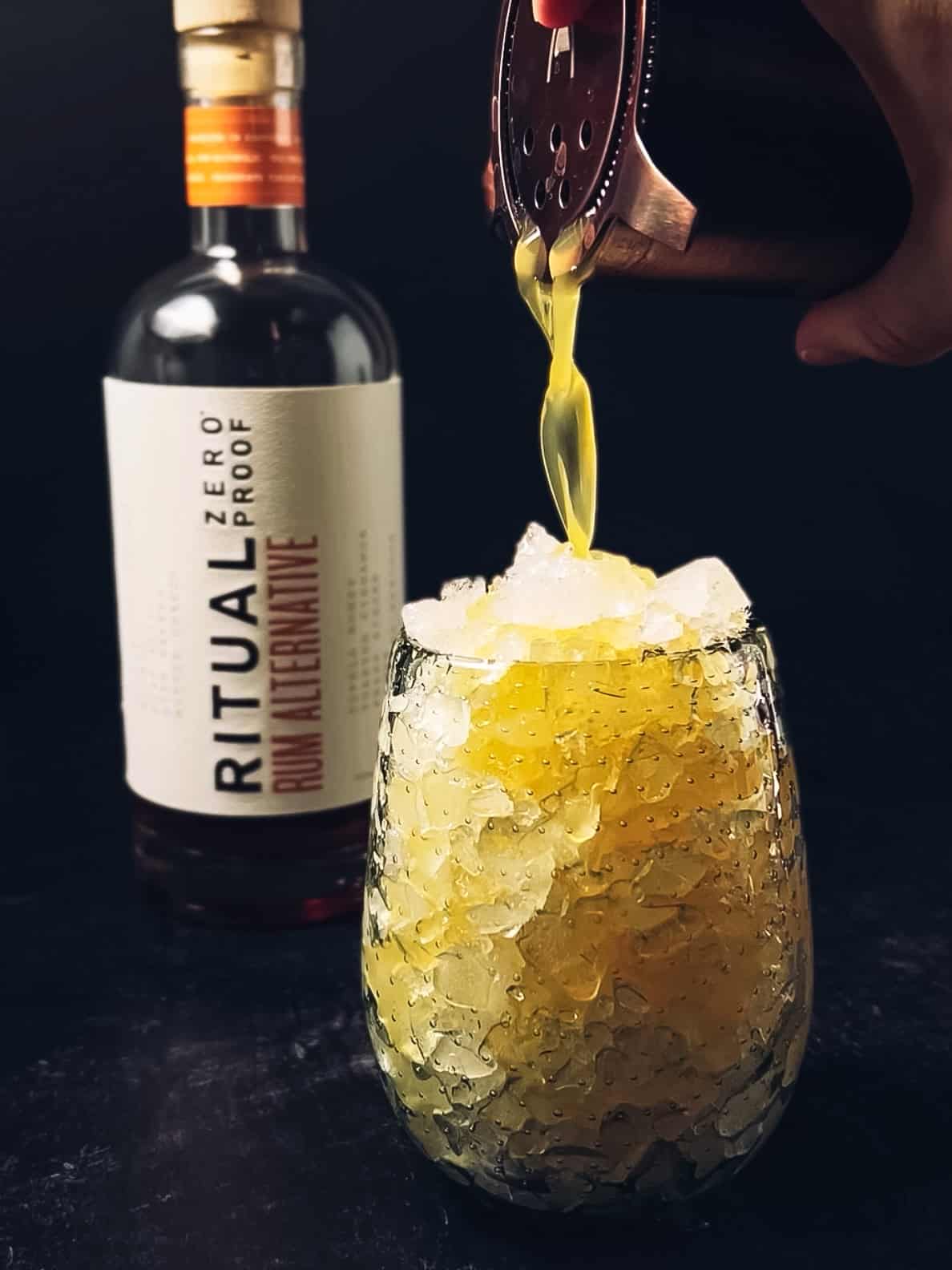 Ritual Zero Proof Rum Alternative
Ritual Zero Proof is a brand that offers a quality rum option without alcohol. Their products are crafted to taste like traditional spirits but are made with all-natural ingredients to offer a healthier alternative.
Ritual zero proof rum offering:
Ritual Zero Proof Rum Alternative: Ritual rum alternative is smooth and flavorful, utilizing spices like cloves, star anise, burnt orange, and ripe bananas to deliver amazing taste profiles.
Not only do they have some of the best non-alcoholic spirits, but they've also made it part of their mission to keep sustainability at the forefront of their business. Which I LOVE! Their boxes are made of recycled material, and the partnership between Ritual and CleanHub is to collect and recycle enough plastic bottles to offset the plastic needed to seal their bottles.
Why not drink safely for yourself, but for our planet too? Ritual spirits are proudly gluten-free, keto-friendly, nut-free, non-GMO, low-calorie, and contain no artificial sweeteners.
Try their Mojito:
2 oz Ritual Rum Alternative
Soda Water
Fresh mint
2-3 lime wedges
Serving recommendations for Ritual rum:
Serve over ice or straight up in a chilled glass
1:1 spirit replacement in any of your favorite rum cocktails
A great alternative for a Bushwacker in the summer.
Lyre's
Lyres are one of the leading companies in creating non-alcoholic spirits with natural ingredients, providing an alcohol-free spirit that captures the taste of rum without the buzz.
Lyres' range of non-alcoholic rum includes:
White Cane Spirit: "A gently aged white rum with flavors that are distinct and contemporary"
Dark Cane Spirit: This dark rum has flavor notes of caramel, fudge, fig, toasted nuts, warm vanilla, and maple.
Spiced Cane Spirit: A lovely spiced rum has flavor notes of spiced vanilla, toasted nuts, caramel, and molasses.
Try their Mojito
2.5 ounces Lyre's White Cane Spirit
1 ounce lime juice
1/2 ounce white sugar syrup
8-10 mint leaves
1 ounce premium bottled soda water
Serving Recommendations:
Enjoy over ice in a highball glass or rocks glass
Use in place of your favorite spirits in classic cocktails like Mai Tai or Daiquiris
Serve with Lyre's Coffee Originale, cold brew coffee, and vanilla for an Espresso Martini.
Ish
Ish is a range of non-alcoholic spirits, cocktails, and wines crafted to provide an authentic taste experience without the need for alcohol. Their products use natural botanicals and plants to bring classic spirit flavors to the forefront, offering complex layers of familiar flavors. Whether you're looking for an evening refreshment or something special for a celebration, Ish has something for everyone.
Ish alcohol-free rum includes:
Rumish – Caribbean Spiced Spirit: Flavor notes of vanilla, caramel, and nutmeg.
Try their Mojito
2 oz RumISH
1 oz White rum (Lyre's White Cane Spirit)
10 Mint leaves
1 oz Simple syrup
1 oz Fresh lime juice
Soda water
Serving Recommendations:
Not intended to be served neat.
Use it in place of traditional rum in your favorite cocktails.
Use in conjunction with other non-alcoholic spirits to build layers of flavor.
Caleno
Caleno offers non-alcoholic tropical rum made with all-natural ingredients. Their products are inspired by the tropical flavors of Columbia. Whether you're looking for something special or a way to keep the night fresh, Caleno offers two non-alcoholic options to choose from. Calenos products are low-calorie, vegan, gluten & sugar-free.
Calenos non-alcoholic rum alternative includes:
Dark & Spicy: An delicious blend of pineapple, coconut, vanilla, ginger, kola nut & lime.
Try their Mojito
1 1/2 ounces Caleño Dark & Spicy
1/2 ounce Sugar syrup
1 Fresh lime 
6-8 Fresh mint leaves
Soda water
Serving Recommendations:
Make a rum punch with pineapple juice and ginger ale. Serve over ice.
Use as part of your favorite cocktails like Mojitos or Mai Tais
Perfect mixed in tall drinks such as Cuba Libres or Dark 'N' Stormies
Sans Bar
Sans Bar is a craft non-alcoholic spirits brand that produces a tasty selection of spirits alternatives. Their goal is to make the night extraordinary with great tasting products free from alcohol, offering the perfect way for people to celebrate life and enjoy simple pleasures. Sans Bar products are low in calories and vegan.
These are Sans Bar's non-alcoholic rum alternative options:
Sans Bar Summer Carnivàle (White Rum Substitute): Hints of citrus, vanilla, and coconut.
Sans Bar Caribbean Getaway (Dark Rum Substitute): Robust flavors of caramel, oak, and molasses.
Try their Mojito
Serving Recommendations:
Consumed straight over cubed or crushed ice
Perfect for use in your favorite cocktails like Pina Coladas or Bahama Mamas
Serve in a tall glass with dark rum with ice and coke.
With so many brands offering quality nonalcoholic spirits, it's never been easier to find zero-proof alternatives without having to sacrifice taste or flavor complexity – whether someone is looking for a light evening refresher or wants an intense party beverage there's bound to be something to suit any occasion needs.
These 5 brands I've listed are just a small fraction of non-alcoholic rum options available to you. If I truly tried them all, I'd be broke! You'll likely wonder why is rum without alcohol just as much or even more expensive than Captain Morgan for instance. The time, thought, effort, and commitment to give its consumers alcohol-free alternatives that are pure and true are no different than businesses that create alcoholic versions.
I also invite you to take a peek at my Home Bar Essentials Guide. I've crafted some of my favorite brands and tools to help stock your own home bar! Look out for coupon codes, as some products offer discounts on your first purchase.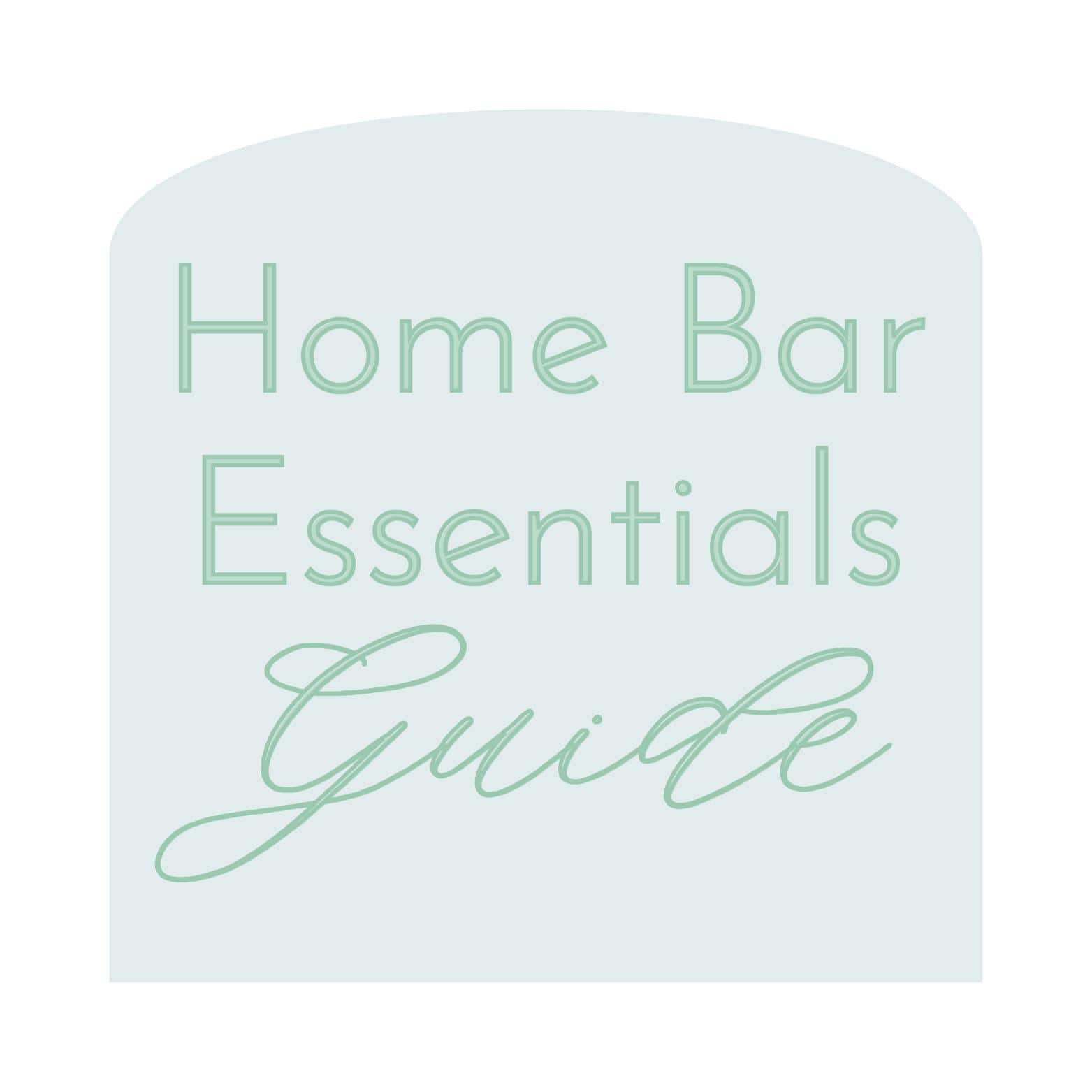 Rum Alternative FAQs
What does zero proof alcohol mean?
Zero proof alcohol is a term used to describe alcoholic beverages which have had the alcohol removed down to zero or nearly zero. This type of beverage still contains many of the flavors found in regular alcoholic drinks. It is an ideal option for those looking to enjoy the taste of alcohol without the effects of intoxication or hangovers.
What can I use instead of rum for flavor?
If you are looking for a flavor profile similar to that of rum, there are many alternative options available outside of rum extract. A few popular substitutes include vanilla and almond extract or amaretto, coffee liqueur, apple cider vinegar, and ginger beer. You can also experiment with various spices and herbs like cardamom, clove, and allspice to add a touch of sweetness and warmth like you'd find in a spiced rum.
How is zero proof alcohol made?
Zero proof alcohol is typically made by removing the alcohol from an existing alcoholic beverage. Zero-proof alcohol can be made through distillation, which involves heating the alcoholic liquid and collecting the vapor produced or using a reverse osmosis system to filter out the alcohol. Additionally, non alcoholic bacterial fermentation processes can produce non-alcoholic beverages like kombucha.